Affiliates


July 02, 2008
John W. Degal, age 68, of Bangs passed away July 1, 2008, at his residence.
A longtime resident of Brown County, he was born Feb. 12, 1940, in Menard, Texas, to Jake and Sophronia Degal. He was a Baptist and a longtime resident and Rancher in Brown County. He married Loretta Dotson on Dec. 31, 1964, in Fife, Texas; she preceded him in death in 2000.
He is survived by three sons, Micheal Degal of Early, Leonard Degal and wife Jeanie of Bangs and Jason Degal of Bangs; one grandson, Jacob Degal; and one sister, Jean Fricker of Kerrville. He is also survived by numerous other relatives and a host of friends.
He is preceded in death by his wife Loretta; his parents, Jake and Sophronia Degal; one brother, Roy Leonard Degal; and a sister, Clara Fay Degal.
Graveside services will be held at 10 a.m. Thursday July 3, 2008, at Clear Creek Cemetery. The family requests in lieu of flowers memorial contributions to the American Cancer Society or a charity of your choice.
Davis-Morris Funeral Home is in charge of arrangements.
Got this out of the Brownwood Bulletin. I never knew that the Brown County Degals were related to the Menard Degals?
---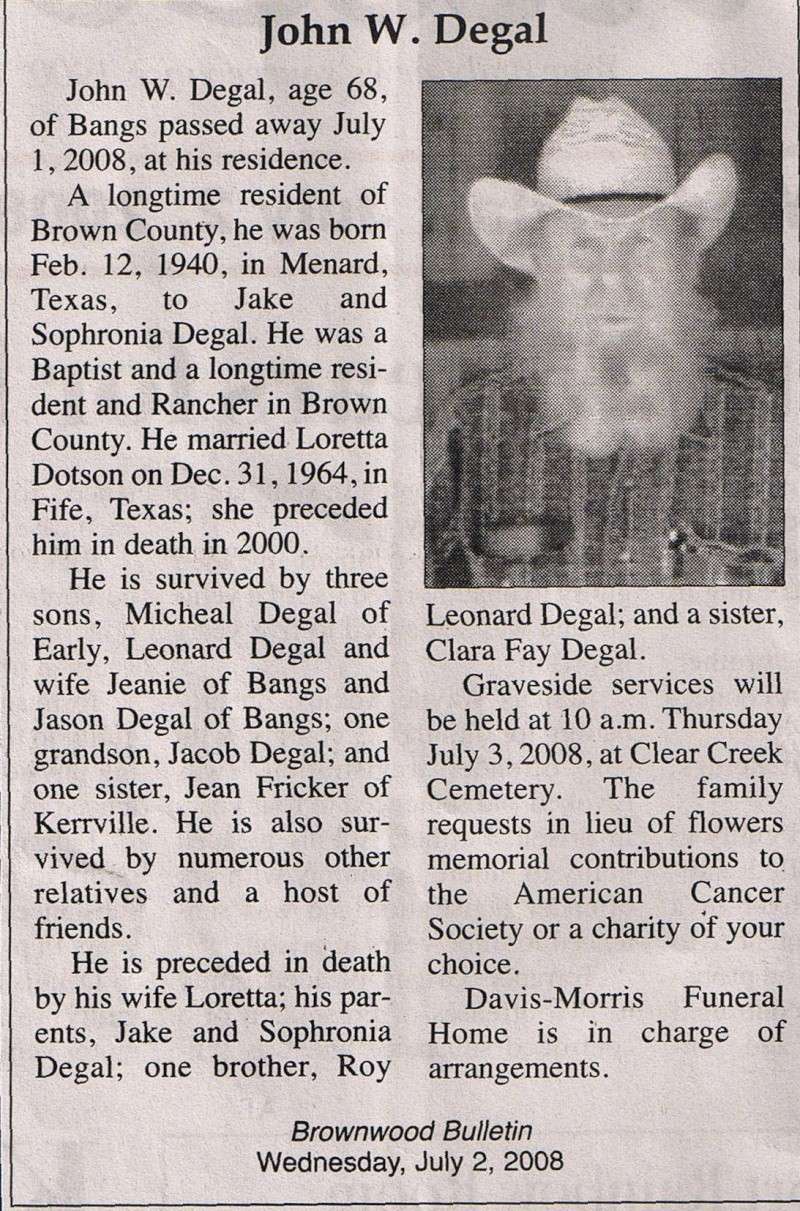 _________________
Ham Bone
Mind Like A Steel Trap......Rusty And Illegal In 37 States.


Similar topics
---
Permissions in this forum:
You
cannot
reply to topics in this forum